Here is the list of step-by-step drawing tutorials that I wrote for The Virtual Instructor – the great place to grow the skills and become inspired!
Drawing With Ink Liners: Natural Textures
An in-depth master class showing the whole process of working on a complex ink illustration:
choosing the idea and developing it into a concept;
using the method of associations;
creating a pencil underdrawing;
analyzing and studying a texture;
the nuts and bolts of drawing with ink liners.
How to Draw a Lizard with Pen and Ink
A creative approach to transferring a photo into an ink drawing. And, of course, a detailed guide to working with ink liners and depicting complex textures!
Go to the tutorial
Drawing a Dragonfly: Stippling with Pen and Ink
Stippling is a great way to enter the world of ink. This technique is meditative and easy to understand; some objects seem to be made for it. What is more, dots can be different not only in size bit in color, too!
Go to the tutorial
How to Draw a Frog with Graphitint Pencils
This lesson is on using with water-soluble tinted graphite pencils combined with toned green paper. What a fascinating union!
10 Exercises for Confident Lines and Accurate Hatching
It seems that everybody wants to draw fun things. But is it really possible to skip the basics? I believe that practicing line and hatching exercises is beneficial for artists of any skill level.
The lesson includes downloadable and printable worksheet!
Draw a Fish: Pen and Ink Drawing with Digital Painting
This master-class is a three-in-one guide to drawing bluegill with ink on paper, scanning and editing it in Adobe Photoshop, and creating a digital painting layer to add the color.
This slideshow requires JavaScript.
How to Correct Mistakes in Pen and Ink Drawings
Ink has a reputation of an unforgiving medium; a blob of water, an accidental error or smear – and your beautiful artwork is ruined. But is it true? In this article, I'm talking about the meaning of mistakes and their important role. And, of course, we'll observe the whole range of ways and tools to fix an unfortunate error.
How to Draw a Mushroom – Pen and Ink
A quick tutorial on working with natural objects, using the ink liners.
Go to the tutorial
Try Something New with Colored Pencils: Colored Paper
This project is a pure creative experiment; I'm drawing a pomegranate with colored pencils on red paper (quite an unusual color to use as a base).
But that's not everything! We also have a time limitation – the goal is to complete the drawing in 45 minutes. Are you up to a challenge? 😀
Create a Herbarium – Nature Drawing with Ink
Chances are that you have an experience of gathering various leaves, flowers, cones, twigs, and other natural curiosities – at least, in the past. In this tutorial, I'll show you a way to use your collections for creating an ink herbarium. 
Also, there is an exciting approach that allows transforming your studies of nature into new artworks. Enlargening of the visual library is guaranteed!
Christmas Inspiration: Drawing a Holiday Wreath
In this tutorial, we'll create a beautiful ink illustration; it can be used to decorate a Christmas card for a person you love. Let's make something festive together!
How Step-By-Step Drawing Tutorials Can Lead You Astray
In this article, I touch upon a controversial topic. You don't expect a post with a title like this from somebody who also creates tutorials regularly 🙂
Step-by-step drawing tutorials are everywhere; the majority of artists, especially the beginners, use them. Do you want to know how to draw x,y or z – chances are, somewhere on the web exists a piece of content right on point.
But somehow it happens that artistic skill doesn't grow – or grows very slowly. A person who relies on drawing tutorials too much often can't understand how to draw anything without detailed step-by-step instruction, and this causes frustration.
To learn more about the pitfalls of drawing tutorials and ways to avoid them, please check out the article.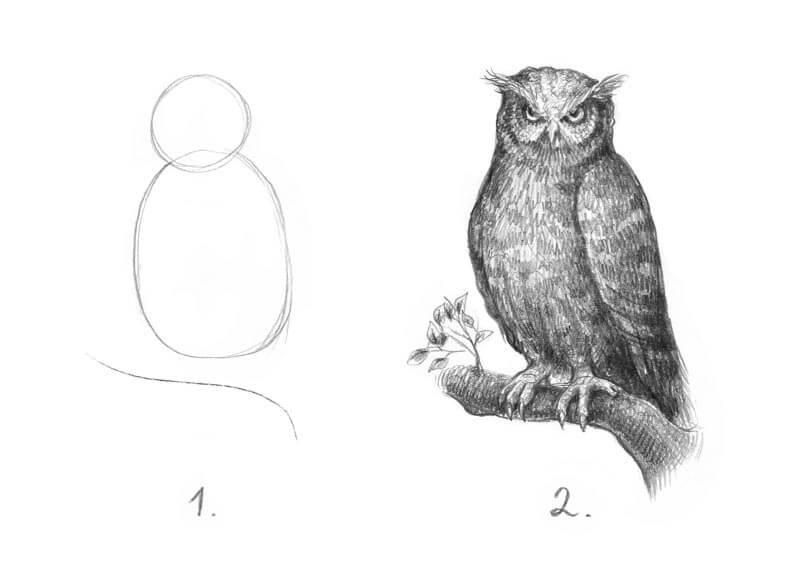 How to Draw a Bunch of Grapes with Colored Pencils
This quick and fun project is an example of how we can combine colored pencils and toned – in this case, grey – paper.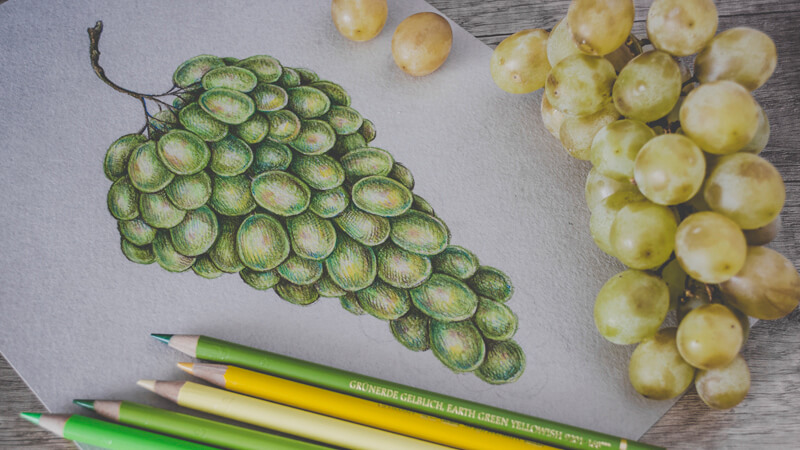 The Anatomy of an Ink Drawing
Are you struggling to understand the general process of drawing with ink? Just being familiar with techniques is not enough. What is much more critical is your clear vision of how to layer ink marks and the practical skill to combine those techniques. What if we had a basic algorithm for building our artworks?
Great news! Anything complex can be presented as a sequence of simple steps, and creating ink art is no different. This tutorial may answer your questions. What is more, the subject of our drawing is very delicious 🙂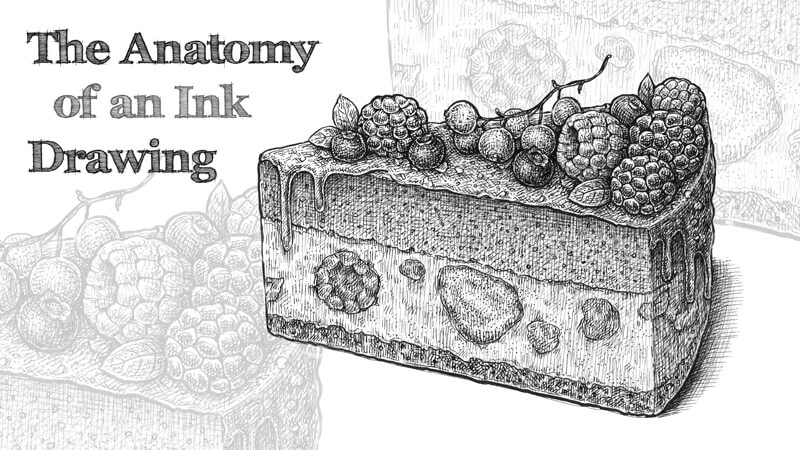 How to Draw a Falcon with Pen and Ink
This tutorial is dedicated to falcons – majestic predatory birds that are known for their strength, maneuverability, and speed – in addition to incredible intelligence.
We'll learn the general principles of drawing contrasting subjects and working with the texture of bird feathers as a visual system. How to deal with a light surface that is in shadow? This post is just about that.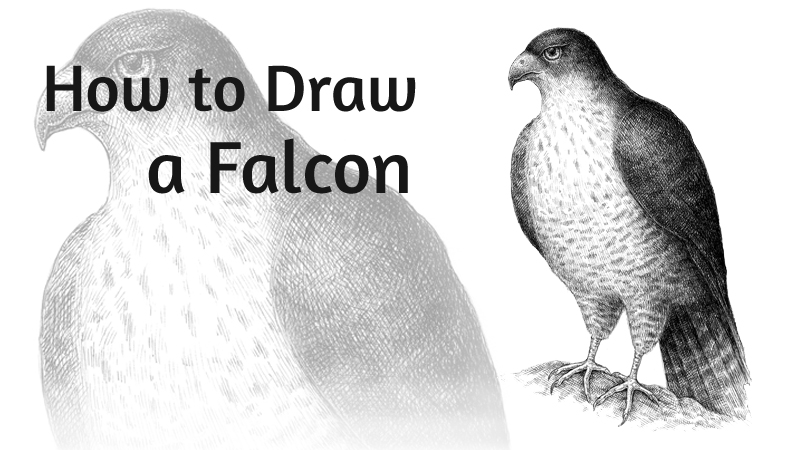 Watercolor, Pencils and a Pen: Drawing a Stag Beetle
Do you like combining different artistic media? Watercolor, pencils, and ink form a mighty union.
This project is all about finding new tips to use in your art, playing with color, being curious and creative. Nature will be our inspiration!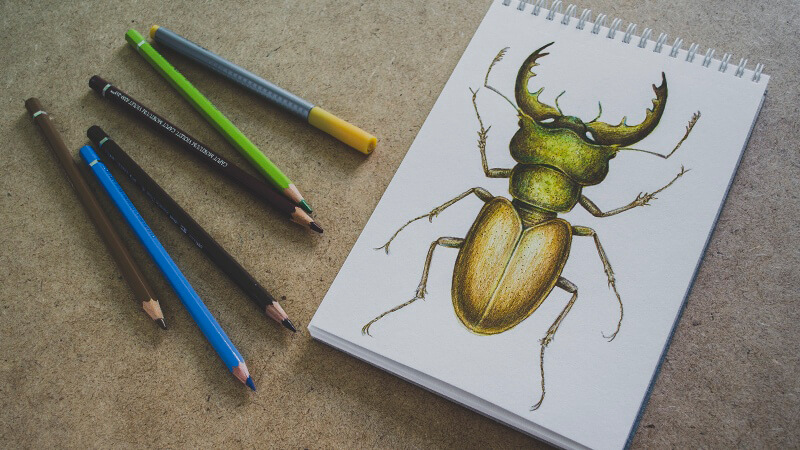 How to Draw an Owl with Pen and Ink
How to Draw a Rabbit with Pen and Ink
Botanical Drawing with Markers and Colored Pencils
A quick nature-inspired tutorial. Summer is waiting!
How to Draw a Butterfly with Black Lines and Colorful Stippling
Ink loves color! Here is an example of how we can combine traditional black lines and colored dots.
Drawing Flowers with Ink on Toned Paper
In this tutorial, I'm showing a way to create quick and expressive ink sketches. Black and grey ink liners, white ink, and toned paper is a great set of supplies for every artist who loves drawing from life.
---
This list will be expanded… 🙂